The link between obesity and incontinence
About Incontinence
The link between obesity and incontinence
Carrying extra body weight is one of the most common causes of stress incontinence in both men and women. Studies show that losing weight can help to significantly reduce or even eliminate the symptoms of urinary and faecal incontinence.1
Learn more now about the relationship between weight and incontinence and what you can do to relieve the pressure on your bladder.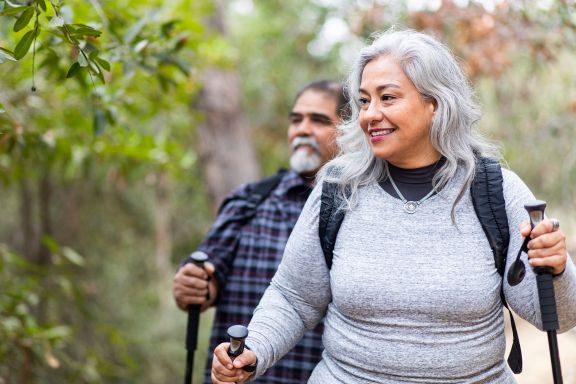 Causes: How obesity makes bladder weakness symptoms worse
Studies have found a strong link between excess weight and bladder problems. According to a recent study by Australian researchers, obese women are twice more likely than women of a healthy weight to experience incontinence, with overweight women 35% more likely.2
Urinary incontinence can happen when your bladder is put under sudden pressure during activities such as chronic coughing, sneezing, laughing or jumping. But when you are carrying extra weight in the abdomen this adds to the likelihood of accidental bladder leaks, as the excess visceral fat in the area puts extra pressure on the bladder. Visceral fat in the abdominal cavity can also weaken the bladder, urethra and pelvic floor overtime, also contributing to stress incontinence.
When does weight become a potential cause?
The body mass index (BMI) is often used as a measure of body weight. A BMI of 25.0 or over is considered overweight. For adults aged 20 and over, a healthy BMI is within the range of 18.5 to 24.9.3
You can easily calculate your BMI yourself:
To do this, take your height in kilograms and divide it by your squared height in metres. So, for example, if you are 175 cm tall and weigh 85 kilos, you would calculate your BMI as follows: 85 divided by 1.75 x 1.75 = 27.8.
However, BMI is not always an accurate indicator of the likelihood of experiencing incontinence. BMI does not take into account whether body weight is due to fat or muscle mass, which means athletes with high muscle mass can, inaccurately, have a BMI in the overweight or obese range.
In addition to BMI, another indication of whether weight is a cause of incontinence is where fat is stored in the body. Incontinence is linked with visceral fat around the abdomen, more than fat stored elsewhere in the body.4 An increased risk to health exists for women with an abdominal circumference of 88 cm and above, and above 102 cm for men.
How weight loss can reduce bladder weakness
According to a study by the University of California, even a relatively small reduction in body weight can have a significant impact on involuntary urinary leakage. The research showed that every kilogram lost helps to reduce the frequency of incontinence.5
In their study of over 300 obese and overweight middle-aged women, the researchers found that those who lost between 5 and 10% of their bodyweight had 3.7 times higher odds of achieving a 70% or greater reduction in incontinence incidents over 12 months. They concluded that weight loss should be recommended as a first-line treatment for incontinence for people carrying extra weight.
The most effective ways to lose weight
Proven effective approaches for losing weight are:
Changing the food you eat:
Key to weight loss is burning up more energy than you consume. For sustainable weight loss, it is best to adopt a balanced diet, opting for healthy fats, protein and lots of vegetables and cutting back on sugar and saturated fats. It is a good idea to discuss a weight loss program with a doctor or dietician first, in case you need to make modifications due to a known medical condition, e.g. diabetes.
Regular exercise
Any kind of activity is helpful, as long as it is done regularly. It is best to do both aerobic exercise and strength training. Cardio exercise burns off excess calories, while strength training builds muscle, boosting your metabolism, so that your body continues to burn calories while at rest.
How pelvic floor training can help
Targeted pelvic floor training can also help reduce bladder leakage by strengthening the muscles that control bladder emptying. With training, the muscles in the pelvic floor can better withstand sudden stress on the bladder - even when doing physical work or lifting heavy objects. Speak to a physiotherapist or pelvic floor specialist for guidance.
You can also use electrostimulation to train the pelvic floor muscles. However, electrostimulation only works if the pelvic floor is regularly trained through exercises. It is best to have a physiotherapist support and guide you through the training.
Not all forms of incontinence have a strong link with obesity. If you have overflow or functional incontinence, for example, weight loss would not be as effective at reducing symptoms. It is a good idea to speak to a healthcare professional for advice on the best treatment options for your type of incontinence.
Let's get started!
If you are carrying extra weight and experiencing the symptoms of stress incontinence, there is an answer. The evidence shows that even a small weight loss can reduce the symptoms of incontinence. By making some changes to the food you eat and your weekly exercise, you can start to regain more control of your bladder.
---
Medical Advice Disclaimer / DISCLAIMER: This website does not provide medical advice.
The information, including but not limited to, text, graphics, images, and other material contained on this website are for informational purposes only. No material on this site is intended to be a substitute for professional medical advice, diagnosis, or treatment. Always seek the advice of your physician or other qualified healthcare provider with any questions you may have regarding a medical condition or treatment and before undertaking a new health care regimen, and never disregard professional medical advice or delay in seeking it because of something you have read on this website.
---
References
1 Thüroff, Univ.-Prof. Dr. med. Joachim W. and Neisius, Dr. med. Andreas , 2017: Belastungsinkontinenz, https://www.leading-medicine-guide.com/
2 Excess pounds can lead to a leaky bladder", Linda Carroll, 20 September 2018, https://www.reuters.com/article/us-health-obesity-incontinence-idUSKCN1M033Y
3 https://adipositas-gesellschaft.de
4https://www.aerzteblatt.de/archiv/216833/Harninkontinenz-Gewichtsabnahme-hilft
5 "Weight Loss to Treat Urinary Incontinence in Overweight and Obese Women", Leslee L. Subak et.al, 2009. https://www.nejm.org/doi/full/10.1056/NEJMoa0806375