6 tips to help you maintain a healthy bladder and bowel this summer
Managing your incontinence
6 tips to help you maintain a healthy bladder and bowel this summer
During the summer months, any pre-existing incontinence issues can be exacerbated in the hot weather. But there are things you can do to help maintain a healthy bladder and bowels. Here are six simple steps you can take this summer.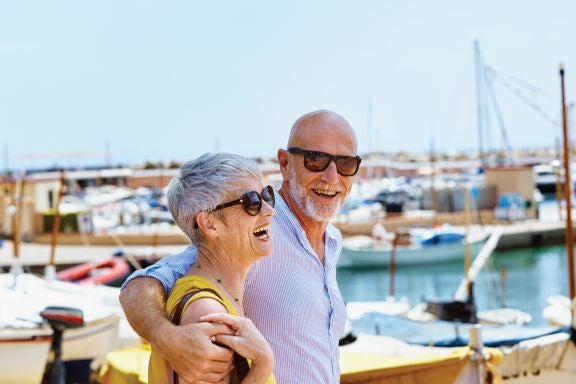 Drink enough fluids
It's important to ensure you are drinking enough water, especially in the hot summer months when dehydration is more likely. Drinking enough fluids helps to prevent infections and supports healthy bowel function. Not drinking enough can cause constipation. Dehydration can also reduce bladder capacity. It is recommended that adults over 35 years of age to consume 30ml of water per kg body weight in fluids and food1, preferably with still water, fruit and herbal teas. (unless your doctor advises otherwise).
Keep clean and dry
When the sensitive genital area is in prolonged contact with moisture caused by incontinence or from sweat, the skin's ability to protect is compromised. Bacteria, viruses, and fungi are now able to penetrate, triggering painful inflammation and infection known as Incontinence Associated Dermatitis, or IAD.
Prevention is the best strategy. It's important to keep your skin clean, protected, and dry by choosing the right secure, skin-friendly incontinence products. That includes avoiding using strong soaps that can cause a pH imbalance that promotes bacterial growth.
Practice good toilet habits
Don't ignore the urge to go to the toilet. Trying to hold urine in can cause bacteria to flourish in the bladder, so it is important to go to the toilet regularly throughout the day.
Straining when you use the toilet can weaken the muscles around the bowels and pelvic floor, making incontinence worse. Reduce the likelihood of straining by drinking enough fluids and eating a healthy diet with fibre and five portions of fruit and vegetables a day. The best posture on the toilet to minimise straining is seated with the feet raised and supported (e.g. on a footstool) so your knees are higher than your hips.
Watch your alcohol intake
Sumer holidays are often times when people may drink more. But alcoholic beverages can worsen incontinence symptoms in a number of ways. As alcohol is a bladder stimulant, it increases your urge to urinate. Alcohol is also a muscle relaxant so it can increase the possibility of bladder leakage. Drinking a lot of alcohol can also impair the signals between the brain and the bladder; another reason why there is a link between excessive alcoholic consumption and unintentional leakage.
Alcohol can also impact bowel function in a number of different ways. These include triggering irritation and inflammation of the gut wall, which can worsen symptoms of diarrhoea; exacerbating conditions such as Irritable Bowel Syndrome (IBS), Crohn's Disease or ulcers; and destroying positive bacteria in the gut resulting in chronic constipation.
Avoid fungal and yeast infections
To prevent fungal and yeast infections, it is important to avoid wearing clothing that is too restrictive or warm – particularly important in the hot summer months. You should opt for clothing that is comfortable and breathable, such as cotton underwear. You should also ensure your towels are clean and dry to prevent the transfer of bacteria or fungi when drying yourself.
When on holidays...
If you are going on holiday this summer, make sure you pack enough products for your time away, such as cleaning and skincare products, and incontinence pads or pants. It's also a good idea to always know the location of the nearest toilet wherever you are. The National Public Toilet Map at www.toiletmap.gov.au has the details.
---
Medical Advice Disclaimer / DISCLAIMER: This website does not provide medical advice.
The information, including but not limited to, text, graphics, images, and other material contained on this website are for informational purposes only. No material on this site is intended to be a substitute for professional medical advice, diagnosis, or treatment. Always seek the advice of your physician or other qualified healthcare provider with any questions you may have regarding a medical condition or treatment and before undertaking a new health care regimen, and never disregard professional medical advice or delay in seeking it because of something you have read on this website.
---
References
[1] Deutsche Gesellschaft für Ernährung, website https://www.dge.de/wissenschaft/referenzwerte/wasser/