Winter skin care for loved ones
Skin Care
Winter skin care for loved ones
Taking care of your skin in winter is important. The skin is the largest organ that we have. Its main function is to protect us, but it becomes visibly affected by the passage of time.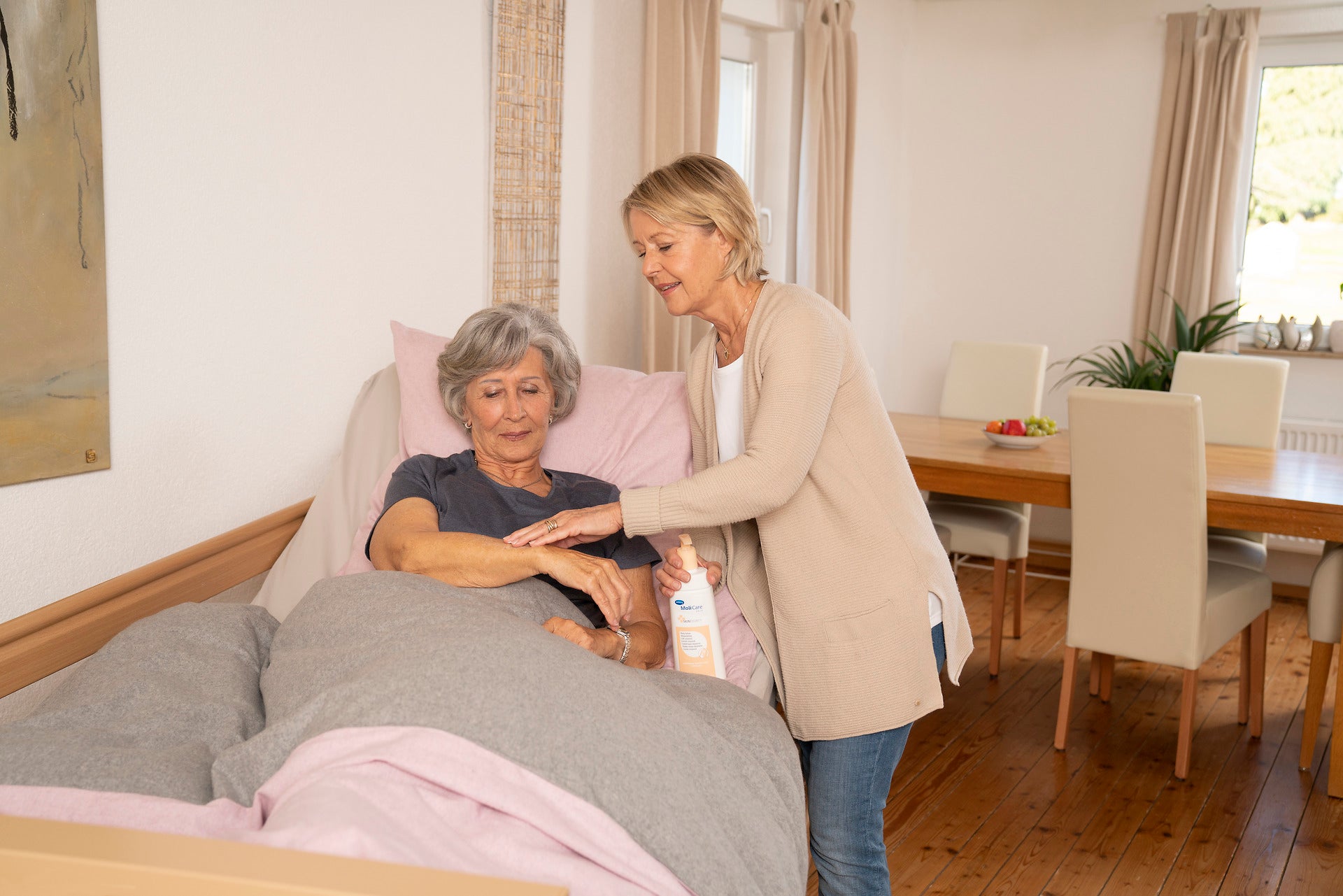 The change of season is an important time in skincare. Winter and summer are both very delicate periods during which you need to pay more attention to your skin than normal.
Skin ages, and mature skin is more sensitive than young skin.
Using different skincare products does not just improve your hygiene level, but it also hydrates and protects your skin, helping strengthen its natural protective barrier.
If you are responsible for caring for somebody who is 100% dependant on you, or bedridden, you will know the importance of employing correct daily washing and protection protocols.
Winter skin care tips
Here are some products that will help you support your loved one's skin:
STEP 1 - Full-body hygiene
Let's use this opportunity to tell you that, although soap is good for cleaning dirtiness, it also removes the skin's natural protective moisturising layer, meaning that traditional soaps and bed washes can be too aggressive for mature or frail skin. During your daily wash for dependant relatives, using hygiene products that do not need to be rinsed is recommended. For quick and easy bed bathing, MoliCare Skin Wash Gloves are an ideal solution for gentle but effective cleansing.
Before you start cleaning, place the person on their back. Use two wash gloves and start by cleaning the cleanest area, moving on to the dirtiest.
Using one side of the first MoliCare Skin Wash Glove, you should clean the top and front part of the body: the face, ears, neck, torso and arms, before finishing with the armpits. With the other side of the first glove, clean the bottom part of their body, their legs and feet.
With the person on their side, you should continue by cleaning the back of their body. Using one side of the second wash glove, clean the back and legs. With the other side, clean their backside as well as the intimate part of their rear end. When cleaning genital areas, always use a clean glove and wipe from front to back to prevent contamination.
In the event of there being any stool , MoliCare Skin Cleansing Foam is a gentle and effective cleanser that also helps reduce odour. You can also use MoliCare Skin Moist Skin Care Tissues so that you do not have to use any more wash gloves.
STEP 2 - Moisturising
Elderly skin lacks in moisture and skin nutrition. Therefore, it is extremely important to apply care products like creams or lotions regularly after skin cleansing procedures.
For moisturising their body, it is recommended to use intense moisturising products to nourish and protect the skin, helping to fight off the physiological changes experienced by mature skin and recover the skin's elasticity.
For particularly dry areas, typically the legs and arms, applying MoliCare Skin Body Lotion every day, is recommended. It contains the Nutriskin protection complex to support the skin's natural barrier and regeneration function.