Incontinence management for those with a disability
Managing your incontinence
Incontinence management for those with a disability
Disability affects life in many unexpected ways. One of the most difficult side effects to manage is incontinence, which can range from a few small leaks to complete bladder or bowel emptying.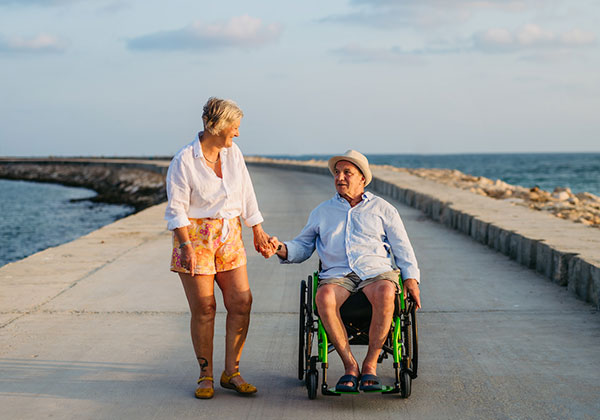 What's the link between incontinence and disability?
Disability can be physical or cognitive and means that someone may be unable to:
Recognise that they need the toilet
Find or access the toilet in time
Remove clothing in time1
If you use a wheelchair, you may find it challenging to move on and off the toilet and to manage clothing. If you have an intellectual disability or memory problems, you may not be aware that you need to go or remember where the toilet is.1


Managing incontinence at home
Home is your own environment, a place you and your carers can tailor to your needs. It can be helpful to think about how to address physical and cognitive barriers to access the toilet.
Removing physical barriers can involve:
Using a mobility aid to make walking easier
Incorporating toileting aids like a raised seat or a swivel stool
Opting for adaptive clothing that is easier to remove quickly
Using wiping aids if it's hard to reach when cleaning yourself
A commode to help reduce the time to access the toilet
To address cognitive barriers, it can be helpful to:
Make signs or pictures that help to locate and identify the toilet
Ensure good lighting along the route to the bathroom
If you're caring for someone with incontinence, you can:
Pay attention to any toileting cues, such as tugging at clothes or becoming restless
Set alarms to ensure regular toilet trips (e.g. a little while after a meal)
Managing incontinence outside your home
It can be more challenging to manage incontinence when you're not at home. You may not have control over the environment you're in, it is ideal to plan ahead to cope with unforeseen challenges.
Planning ahead can include:
Making a trip to the toilet before you leave home
Knowing where the nearest toilets are – the National Public Toilet Map

shows all public toilets across Australia, including those with wheelchair access

Scheduling toilet stops before an urgent situation
Packing all the supplies you need so you're prepared for unexpected situations
Using the right products
The right absorbent and skin care products can be a game-changer when it comes to disability associated urinary incontinence.
While there are a lot of products on the market, there are significant variations. Poor quality or misfitting products could make it harder to live with incontinence. This may lead to increased frequency of clean-ups, adverse effects on the skin, and difficulties in maintaining social life.
At MoliCare®, we emphasise the importance of finding a continence product that is the right style, absorbency and size to contain every episode of incontinence. Why? Because the right product supports comfort, dignity, security, confidence – and that translates to an improved quality of life. If you're not sure which product is right for you (or the person you care for), then please use our product finder. You can take some free samples for a dry run.
Proper skin care is essential to preventing Incontinence Associated Dermatitis (IAD). Regular exposure to urine and faeces alters your skin's pH level2 and can damage your skin's protective barrier, the acid protection mantle, causing irritation, pain and discomfort.3
The products in the MoliCare Skin range are formulated to clean, protect and care for skin made vulnerable by incontinence. Our products are specifically designed to help maintain healthy skin and reduce the risk of irritation. We encourage you to explore our range.
Disclaimer
This website does not provide medical advice. The information, including but not limited to, text, graphics, images, and other material contained on this website, is for informational purposes only. No material on this site is intended to be a substitute for professional medical advice, diagnosis, or treatment. Always seek the advice of your physician or other qualified health care provider with any questions you may have regarding a medical condition or treatment and before undertaking a new health care regimen. Never disregard professional medical advice or delay in seeking it because of something you have read on this website.
1. Continence Foundation of Australia, Disability associated urinary incontinence, https://www.continence.org.au/types-incontinence/urinary-incontinence/functional-incontinence [Accessed 7 July 2023]
2. MoliCare, pH and incontinence, [Accessed 7 July 2023]
3. Healthline, What is incontinence-associated dermatitis and how is it treated?, [Accessed 7 July 2023]e-Associated